Today, planning a wedding costs a fortune. From dresses to food, and decorations, at the end of the day, you will be broke. In search of dope trends, we lose ourselves into money filled needs.
But the newest trend to cut the wedding costs and go eco-friendly is what in my definition should be the new rising trend. The couple, Cherie and Chris used the charity to cater their entire wedding at East Keswick Village Hall.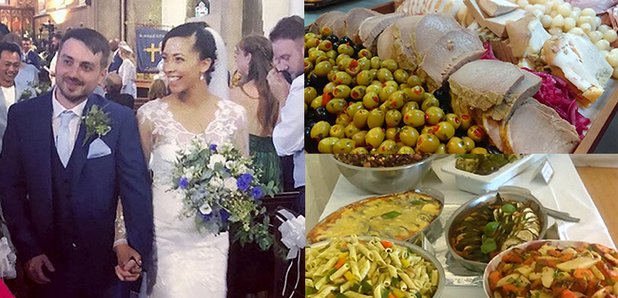 Yes, you heard that right. They made food that was making their way to the dumpster to take a detour and into their wedding. Lots of untouched food from bakeries, restaurants, and supermarkets make way to the trash on daily basis.
It was a surprise to the guests, they didn't know what they were eating until the speeches.  This king-sized buffet only cost six pounds per head. Let's take a look at their menu.
It consisted of Spinach and chickpeas curry, chicken and bacon pies, sausage and bean cassoulet, ratatouille, cold meats and pickles, a cheese board, oven roasted thyme and lemon chicken and tortilla cups filled with Mexican salad.